Have you ever wondered what it takes to write and publish a WordPress plugin? Have you considered what the process for making a premium plugin might entail?
A Conversation with Brad Williams and Corey Salzano
In late 2020, local area developer, Corey Salzano, launched a new premium WordPress plugin, Entries to Google Sheet. As shared on its own website, Entries to Google Sheet is a WordPress plugin that connects Gravity Forms and Google Sheets. Gravity Forms is a form builder plugin, and Google Sheets are online spreadsheets. Entries to Google is a Gravity Forms add-on that saves copies of form entries in the rows of an online spreadsheet. Although Corey has written countless plugins for custom WordPress sites, Entries to Google Sheet is Corey's first go at launching a premium plugin.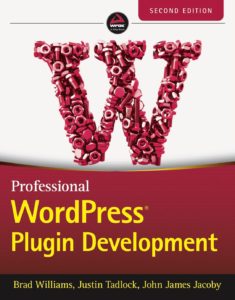 A co-founder and CEO of WebDevStudios, Brad Williams written and launched a number of free and premium plugins and themes for WordPress. More notably, Brad Williams literally wrote the book on writing WordPress plugins. Brad is a co-author of Professional WordPress Plugin Development, the second edition of which was recently published.
For our meetup, Brad will interview and chat with Corey about the process of bringing a plugin to the WordPress marketplace. The conversation will last about 45 minutes. We will follow up the conversation with 15 minutes of Q&A.
A Special Book Giveaway
Brad has kindly offered to give away three copies of his book, Professional WordPress Plugin Development, on the night of our March 2021 meetup. On the night, we will draw three names from a hat. All winners must be on the Zoom call on the night. (We want to make sure that someone in the audience gets to win this great prize.)